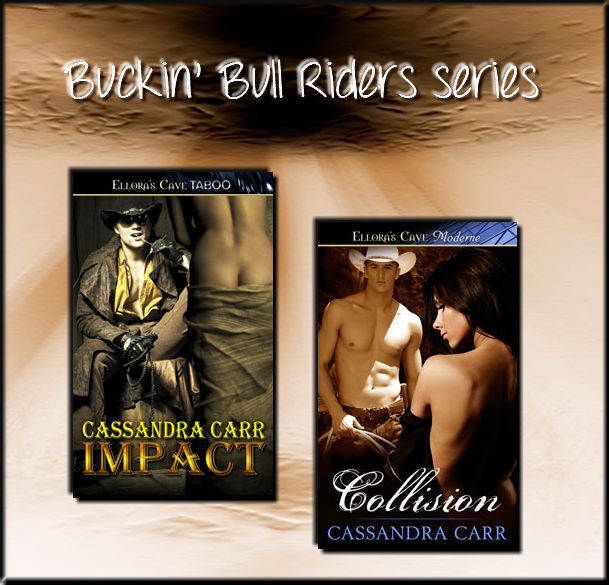 Impact
Professional bull rider Conner Raub hides a secret from the world. He's a Dom. When he meets a submissive on tour who pulls at his Dom tendencies, he fights to deny his true self, believing his colleagues will condemn his lifestyle.
Jessica Talbot is new to the BDSM scene and the bull riding tour, but after seeing Conner come to the aid of a submissive being mistreated in a club, she sets out to have him for her own. After their first night together she asks him to train her to submit and he refuses, afraid to mix business with pleasure. But Jessica isn't deterred. She'll do whatever it takes to make him realize he can have it all—a career, true love, and the BDSM lifestyle he craves.
Excerpt:
Jessica loaded her computer into her messenger bag and headed out onto the event floor. She still had four stock contractors to find before she could relax and watch the competition. Her co-liaison had said the first event was always crazy and this one was certainly living up to its hype. Between the new contractors, new bulls and the new her—well, not exactly new, but new to this "first event" stuff, she was about to blow a gasket.
Jessica had known when she'd taken the position she might encounter some old-fashioned attitudes regarding her ability to do her job, but she was still astounded at how often it happened. She knew bulls—her daddy was a cattle rancher. She knew all about the different breeds, and why one breed was preferred for one job over another. She understood which made a good bull-riding bull, and how to pick one in a draft based on what you needed to get out of the ride. But it didn't matter. Some of these assholes saw her big boobs and figured she was here as eye candy.
Spotting Jack Tucker, she hurried after him. "Mr. Tucker," she called. She was gaining on him but he appeared to be ignoring her. "Mr. Tucker. I'm Jessica, the liaison from the NBT. We met last season? I need to go over a couple of things with you." She'd just caught up with him by this time and she glanced over to see if he was listening at all.
"I turned in my paperwork," he replied as he kept walking. "Now get outta my way, girlie. I've got stuff to do." He spit a stream of tobacco right in front of her and Jessica had to consciously try not to flinch. It wasn't the first time she'd seen tobacco being spit, but to know he'd purposely done it right where she'd be walking—ick. He'd done a similar thing last year and was obviously trying to intimidate her, but was barking up the wrong tree if he thought she was going to slink away like some chastised dog.
"Mr. Tucker," she began, trying to keep her voice down and even. "You left a few pieces of your paperwork blank and I need to have those parts filled in."
"I've been doin' paperwork for the tour for longer 'n you've been alive, girlie," he said. "I've never had a problem."
Jessica took a deep breath and tried again. "We're putting the bulls into a database. Without information like year of birth, weight, etcetera, our database will be incomplete. If you just take a few moments of your time to look at your records I'll leave you alone."
He stopped and turned to her. "This tour's gettin' to be more of a pain in the ass every year." He stabbed a finger in her general direction. "People like you comin' in and tryin' to change everything. Modernize, you say. Well, I say if the system ain't broke, don't fuck with it." Jessica decided she'd had enough after she saw his pompous expression.
"Mr. Tucker, you have one hour to have this information to my colleague, Rick O'Meara, in the Official's Room. If you don't, I will disqualify your bulls." Spinning on her heel, she began to walk away, forcing herself not to run. Before she got ten feet, though, a rough hand gripped her arm.
"What did you say, you little bitch?" He squeezed and she gasped from the pain.
Before she could process anything further Conner was there, prying the man's fingers off her arm. "Get your fuckin' hands off her."
She looked up at him. His lips were set in a thin line and his eyes were as dark and stormy as one of the Texas tornadoes she'd seen dozens of times living on the panhandle.
Tucker released her. "I'd suggest you go find the information the lady requested," Conner growled, getting in the other man's personal space. Since Conner had a good eight inches and at least seventy pounds on the man, he backed down immediately.
"This isn't over," he told her, then turned and stalked away.
Conner lifted her arm. "He hurt you." It wasn't a question.
"It's not a big deal," she answered. A profound sense of gratitude swept through her body and as she stared up at his eyes, which had darkened even further as he looked back at her, she felt as if she could drown in them. Normally she'd prefer to fight her own battles, but she didn't know what Tucker would have done to her if Conner hadn't intervened. She shivered.
Her skin felt searing hot where his fingers touched it, and whether from the leftover adrenaline of the situation or from her reaction to him she didn't know, but her breath was coming fast and furious, making her look like a panting fool. His gaze flickered down to her breasts and then slowly returned to her face.
"I saw the whole thing. You have to report him. He can't be treating you like that. You were just doing your job and he wasn't doing his."
She was mortified he'd witnessed such an embarrassing situation. Jessica was afraid he would go tell the tour she couldn't handle herself and she'd be out of a job. Even with all the crap she had to take, she loved this job. If she could've been a bull rider she would've, but she'd been cursed with the wrong DNA, so she did what she could to be close to the sport. She looked down, sighing. "Don't worry about it," she mumbled, dropping her eyes.
He grabbed her chin and forced her to look at him again. Her pussy heated as she remembered how he'd done the same thing to his sub that night at Decadence. "I am worried about it, and you're not gonna waylay me."
"Conner, please." She bit her lip to keep from saying anything else. She had a feeling saying "Conner, please kiss me, please make me yours, I want you" wouldn't go over very well.
He took a giant step back then and dropped h
is hand. "I apologize. I don't even know your name and here I am touching you. I have no right."
You can touch me all you want…
Books Available @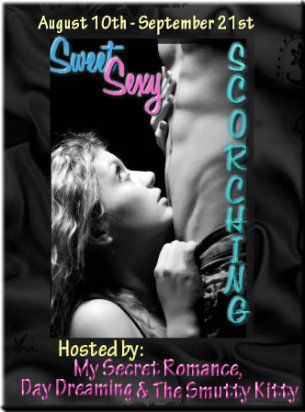 align="center"Cassandra is giving away a signed set of romance trading cards to one commenter.
Cassandra Carr lives in Western New York with her husband, Inspiration, and her daughter, Too Cute for Words. When not writing she enjoys watching hockey and hanging out on Twitter. Her December 2011 release, Caught, was named Best BDSM Book 2011 by LoveRomancesCafe.

Click below to follow me on Twitter or become a fan of my writing on Facebook! I also have a newsletter if you'd like to join that, or you can become a fan/friend on Goodreads. Additionally, I've been interviewed by The Romance Radio Network and Blog Talk Radio. Check them out!

I love to hear from readers! If you would like to comment about my work or ask me a question, contact me at AuthorCassandraCarr@gmail.com. My mailing address is PO Box 1075, West Seneca, NY 14224.
Site | Twitter | Facebook | Goodreads | Newsletter