Book One in the Celestial Seductions Series
Love with a beautiful stranger isn't so strange—if you believe in destiny. Clinical psychologist Destiny Walker considers herself far too logical for any of that "soul mate" nonsense. Even if her beloved, dearly departed Nana insisted she was going to meet hers someday. When a sudden downpour sends her ducking into a psychic reader's storefront—and the woman confirms everything her grandmother said—doubt begins to sneak into the corners of her mind.
A chance meeting—more like a collision—with Superman look-alike Reece Kellan sets off a sexual chemistry reaction the likes of which she's never felt. She isn't prone to falling into bed with strangers, but he does things to her body that leave her breathless…and unsure where her pleasure ends and his begins. And that's the part that scares the hell out of her…
Book Two in the Celestial Seductions Series
Once upon a time, two young lovers made a vow to reunite…someday… On a beach on the small Caribbean island of Isla de Margarita, Isabel Asher meets once more the man she left behind twelve years earlier. Rafael Cruz is every fantasy she's ever had come to life, but can the sensual tropical nights spent in his bed lead them back to love? She's about to find out…and maybe to have her heart broken in the process.
Book Three in the Celestial Seductions series
This summer is going to be twice as hot…
The view from Leigh's front porch was never this nice. In fact, her hunky new neighbor is sparking all kinds of naughty ideas about how to beat the heat. Much to her delight, the feeling is mutual—as long as they keep things light. Her divorce left her a little lonely, but far from needy.
Jared doesn't plan to spend much time in his new place before jetting off on his next photojournalism assignment. Leigh's classic, California blonde looks are any man's fantasy. A little flirting, a little playful, neighborly car washing, and it isn't long until their summer fling is in full swing.
Neither can imagine the sex being any hotter—until Jared's sometime roommate and lover, Matteo, comes to town. In the arms of two men, Leigh brings her ultimate fantasy into scorching reality.
Jared revels in the chance to command his two lovers' every move, but when he gets the call for his next overseas gig, he's not so sure he's ready for the fireworks to end. And even as Leigh gives her two lovers the most precious gift—their freedom—she wonders how she'll find the strength to say goodbye.
Books Available @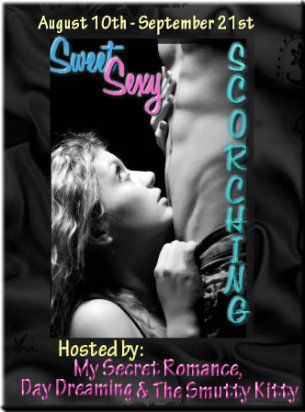 Be sure to follow the hop to all the stops to try and figure out the 'Guess Who' post. If you would like to be in the drawing for the grand prize, please make sure you fill out the Rafflecopter form. It only needs to be filled out once from one blog each day to be entered. Thank you and good luck!!

Eden is giving away a pdf of Pleasure's Edge to one commenter.
Best-selling and award-winning author Eden Bradley writes dark, edgy erotic fiction. Her work has been called 'elegant, intelligent and sensual'. Her debut novel, THE DARK GARDEN, has been praised as 'a masterpiece', and was a Romantic Times Top Pick, as was her erotic novel, FORBIDDEN FRUIT. Her novel THE LOVERS was called '…the thinking woman's erotica…'.

Eden sold four novels and a novella to Bantam, as well as a novella to Berkley, before her first novel even hit the shelves, and Bantam contracted two more novels from her the moment her debut book was released. Several of her novels and novellas have been translated into German, Romanian, French and Japanese.

Eden has appeared regularly on Sirius Satellite's Playboy Radio show, Night Calls, and has participated in round-table podcast and radio discussions. She is also a regular guest at the West Coast In the Flesh readings. Eden has conducted a number of workshops and served on panels on writing craft and writing sex at several chapters of Romance Writers of America, at the RWA Nationals Conference, at the Romantic Times Convention and at library and independent writer's groups.

Eden has published a number of articles on writing and has written both print and e-books for Bantam/Delta, Harlequin Spice, HQN, Berkley Heat, Samhain Publishing, Magic Carpet Books, Phaze Publishing, and New Age Dimensions Publishing. Eden also writes erotic romance for Berkley Heat as Eve Berlin. Her debut Heat novel, PLEASURE'S EDGE, won the 2010 Holt Medallion Award for best Erotic Romance.
Site | Blog | Twitter | Facebook | Kindlegraph | eMail